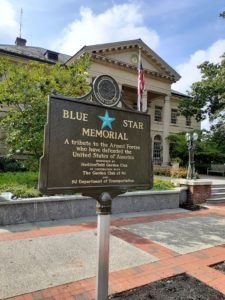 On August 14, 2020, in Haddonfield, Kings Highway became part of an extensive highway system of the United States paying tribute to the U.S. armed forces. The Blue Star Memorial sign was installed in front of Boro Hall after a two year project of the Haddonfield Garden Club. The National Garden Club initiated this honor to service men and women of all military branches after the close of World War II as "a ribbon of living memorial plantings transversing every state". The Haddonfield Garden Club is honored to be part of this.
Planning the garden that will be maintained under the sign is currently underway for install September 2020.
We thank the Haddonfield Foundation very much for their contribution and support of this project.
An official small dedication using COVID guidelines is planned on November 11, 2020. Specific details will follow.
Jeannette Glennon
Blue Star Chairman
Haddonfield Garden Club