Haddonfield Foundation Helps Markeim Art Center Solve Window Issue
Published with Permission from Patch/Haddon; Anthony Bellano
Haddonfield, NJ, June 29, 2016– The Haddonfield Foundation and The Markeim Art Center have come together to resolve a problem the art center has faced for the last 10 years.
New energy-efficient and UV-protective windows were installed recently at Markheim, thanks to fundraising by Markeim members and a grant provided by The Haddonfield Foundation, the foundation announced.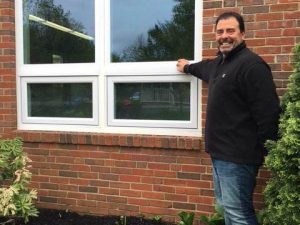 "I'm happy to say that our new windows are all sound, snug and secure," Haddonfield Foundation Chief Operating Officer Bob Hochgertel said. "Our windows are no longer safety issues."
The new windows are expected to help Markeim see a 30% drop in operational costs, the foundation said. During the non-profit's biggest revenue-generating seasons – summer and winter – utility bills would rise to as much as $1,000 per month.
"The windows were so bad that if you pushed on them the frame would separate from the building structure," Hochgertel said. "Whenever we evaluated our energy efficiency the windows were recognized as an issue but we had a difficult time setting aside money for the project."
In May of last year, the foundation announced that a $10,000 grant would be awarded to the art center. By the fall, Markeim members had provided matching funds. The windows were installed in March.
"So few Haddonfield organizations know that they could benefit from the Foundation's mission," Hochgertel said, referring to contributions the Haddonfield Foundation has provided to more than 100 local organizations and projects in town.
With a gesture toward the new windows, he invited the community to share their ideas and support with the organization.
For more than 25 years, The Haddonfield Foundation has fostered charitable giving for public purposes within the Borough of Haddonfield and among its citizenry to promote, maintain, and enhance the quality of life.
The Haddonfield Foundation has granted over $1,000,000 since its beginning.
It is now affiliated with the Community Foundation of South Jersey, which offers back-office services, investment oversight, and planned giving support.
The above image was provided by the Haddonfield Foundation: Chief Operating Officer, Bob Hochgertel with one of the new windows.